Specializes in Weddings!!
Your special day has arrived. All your planning and preparations have finally come together. Your hard work and efforts provided by your wedding professionals are on display. The emcee/entertainer had previously discussed every detail, and stage is set. It's now time to sit back, relax and enjoy the festivities.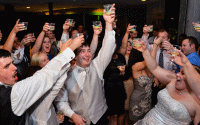 Once presented with a timeline from our easy to use online planning forms, the entertainer takes your event from start to finish. Each of our entertainers are accomplished professional wedding emcee's with over ten years experience and will take extreme care when conducting introductions, specialty dances, formalities and other requested events.
When the cocktail party begins and as your guests make their way into the reception hall, they are greeted with an assortment of tasteful background music especially tailored for your event. During dinner, continuous music is provided based on your preferred style, genre, or requests. As the dance portion of the reception starts to take place, it's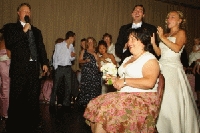 important that you have a DJ that has experience and knows how to "read the crowd". Your entertainer will provide the latest music from today's top hits to the golden oldies.
Our ultimate goal is to keep your reception light, lively and well organized but never cheesy. Remember we custom build weddings, so pick and choose as many of your favorite songs you would like to have played. Your entertainer will know exactly what to do. We will always honor your must play and do not play selections.
Thank You Letters And Reviews Are Full Of Comments Like This!!
Posted on Wedding Wire and The Knot - 5.0 Rating and 5 Stars
Rob and Dave were great to work with. They were very professional and prompt. They were organized in planning our event. Rob was great at creating an engaging environment and coordinating people in photos without intruding into the event. He was able to capture the important moments while remaining in the background. He also had a great sense of humor through such a long day. Dave was able to determine our wants and keep a great vibe through the entire reception. He was attentive to the type of music that we wanted and was great about trying to plan ahead so that we get all of our requests in.
Julie Mathias - Bride - Overhills Mansion - Catonsville Maryland - March 5th 2022
Posted on Wedding Wire and The Knot - 5.0 Rating and 5 Stars
We have had the pleasure of using DJ Holmes for all 3 of our daughter's weddings and we were thrilled with each experience. Dave keeps the evening on schedule and always plays the best music to get the party going! We would highly recommend Dave!!
Susie Cruz - Mother of the Bride - Raspberry Plain Manor - Leesburg Virginia - February 4th 2022
Posted on Wedding Wire and The Knot - 5.0 Rating and 5 Stars
Dave and his company, Event Entertainment, not only met but exceeded every single expectation we had. They were flexible with the changing environment with the pandemic, they met very specific requests that we had that made our day perfect, incorporated specific songs and music pieces we requested. I could go on and on. Dave and his team are worth every single penny and then some, and we can not recommend them any more highly!
Tony Kelly - Groom - Celebrations at the Bay - Pasadena Maryland - November 27th 2021